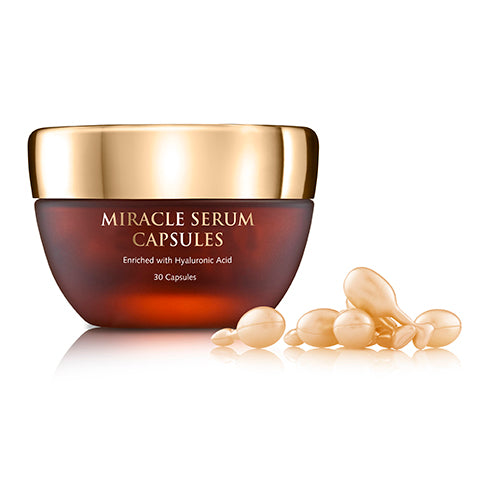 MIRACLE SERUM CAPSULES
Based on an enriching combination of Dead Sea water, 
Hyaluronic Acid, and vitamin E, this unique serum replenishes 
your skin with a lush combination of antioxidants and 
restorative elements that work together to restore a youthfully 
taut complexion. Added borage seed oil, a naturally 
concentrated source of gamma-linolenic acid helps nourish 
your skin as sesame seed and olive oils restore deep hydration.
Our innovative capsules help each ingredient best retain its 
individual anti-aging benefits for the most intensively 
nourishing overnight facial that enables you to wake up even
more radiant.
Directions: Twist off the tab and gently squeeze the capsule's contents onto your fingertips. Onto cleansed, dry facial
and neck skin, massage in the serum until fully absorbed.
Recommended for a 30-day nightly regimen.